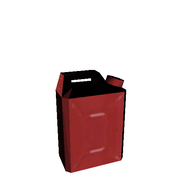 The Petrol Can item is used in the process of
Refuelling
. It can be found primarily in industrial areas, sometimes in civilian areas and vehicles.
It often spawns with between 0 and 10 litres of fuel already in, and less often with 11-20 litres.
A maximum of 2 will fit inside a Small Bag and 4 will fit inside a Backpack.